Learning C# with CSharpFritz
---
Get Started Building Applications with Blazor
Featuring: Jeff Fritz
Blazor is the new web framework that you can use to build applications that run on the server or on web assembly using components, C#, and Razor syntax. In this episode, Fritz gets you started with the basics of Blazor
January 24
Get Started Building Applications with Blazor
Featuring: Jeff Fritz
Blazor is the new web framework that you can use to build applications that run on the server or on web assembly using components, C#, and Razor syntax. In this episode, Fritz gets you started with the basics of Blazor
January 25
Minimal API Deep Dive
MICROSOFT
DOTNETCORE
ASPNETCORE
Featuring: Safia Abdalla, Stephen Halter
Minimal APIs are great for building microservices for your applications fast in .NET 6 with just a few lines of code. Join Safia Abdalla and Stephen Halter for a deep dive into the internals and advanced features + live Q&A.
January 26
Testing EF Core Apps
MICROSOFT
ENTITYFRAMEWORK
EFCORE
TESTING
Featuring: Arthur Vickers, Jon P Smith
What's the best way to run automated tests on an application that uses Entity Framework Core? Jon P Smith, author of the book "Entity Framework Core in Action" covers three ways to create automated tests for your code and looks at the EF Core test "pain points" and how to get around them.
January 27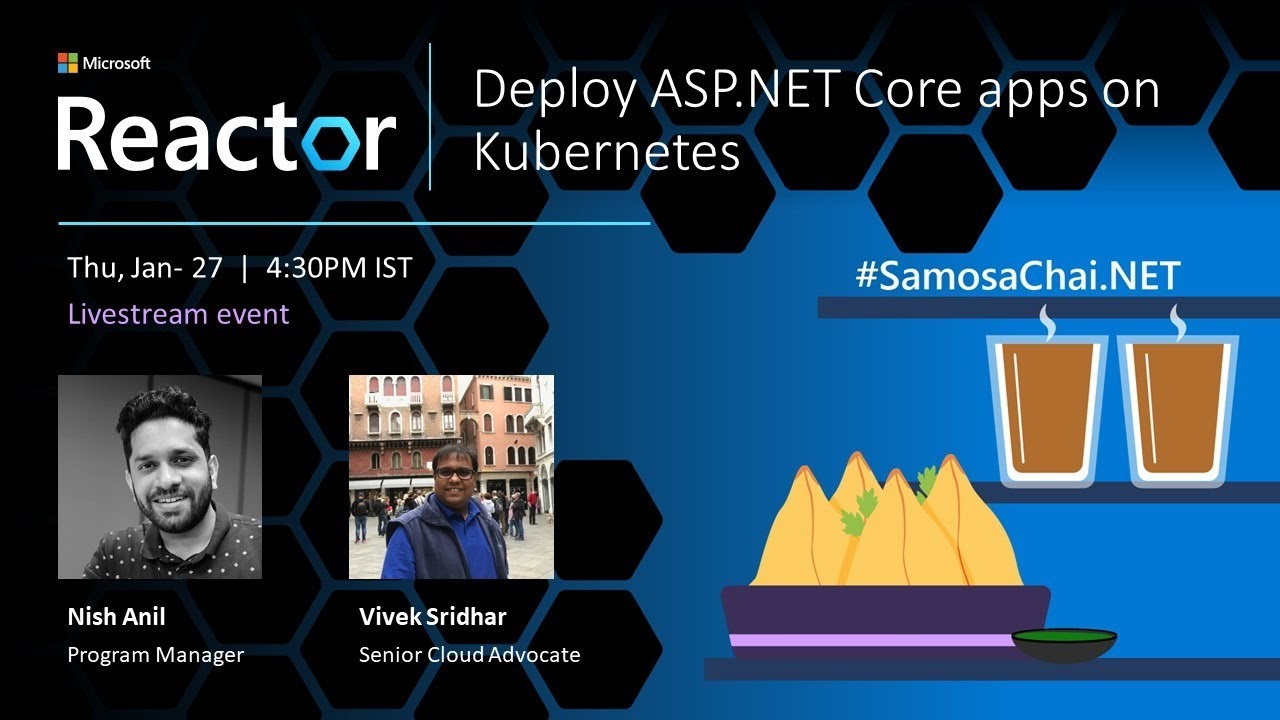 Deploy ASP.NET Core apps on Kubernetes | #SamosaChai.NET
.NET Events
Featuring: Nish Anil
Microservices applications deployed in containers make it possible to scale out apps, and respond to increased demand by deploying more container instances, and to scale back if demand is decreasing. In complex solutions of many microservices the process of deploying, updating, monitoring, and removing containers introduces challenges. This session will explore the basics of Kubernetes and deploying our first Microservice with .NET to Kubernetes.
January 31
Blazor Components, Layout, and Style
Featuring: Jeff Fritz
Blazor is a framework that is built with components. In this episode, Fritz is going to show you how to build and re-use components in your applications. We'll also look at how to use CSS and layouts with Blazor
February 1
Localizing the .NET Website
MICROSOFT
DOTNET
ASPNETCORE
LOCALIZATION
Featuring: Maira Wenzel, Dan Zhu, Sebastien Ros, Damien Edwards
We recently added Japanese and Simplified Chinese translations to the .NET website (dot.net). Come chat with the team to find out how they implemented localization on a modern ASP.NET Core application running Razor Pages and Blazor on .NET 6.
February 2